Majharpacknshift is welcoming you to experience office and house shifting service in Uttara. We provide the best services with zero compromises in quality. Since 2002 we have been a trustworthy and reliable name. Our various services will make your shifting hassle-free, smooth and damage-free. Amongst a huge list of shifting companies, you will not regret choosing us. Our motto is 'your goods, our care.' In this era, it is very easy to find out something. Need only one click. Amongst huge lucrative advertisements, it is not easy to find an authentic one. To be clear and specific, it is almost absurd.
We will kindly request you to choose us. Not because we are authentic but because we believe in deeds. Our dedication, time management, efficiency, and diversity will make you believe us. Once you hire us, our dedication and loyalty will last for a lifetime.
Our whole team welcomes you with utmost dedication, professionalism, and devotion to making your shifting smooth, hassle-free, and damage-free. We are here to assure you that your goods and items will be in a safe hand. 
Why do we say we are the best for home shifting service in Uttara?
We know every move and shift is different, and every client is unique in their way. Demands and choices vary. We have a huge variety of services to meet the needs and choices. Our well-experienced professionals, skilled and trained workers, large numbers of vehicles, and world-class packaging materials are available to meet your demand. Most importantly, our whole team put all their efforts into making a plan to match your budget, demand, and time.
From the beginning to the end, we try to satisfy our clients in every possible way to make their shifting hassle-free, smooth, budget-friendly, and damage-free. Majhar PacknShift not only provide movers and packers services in Uttara, but we also maintain services. For the satisfaction of our clients, we work 24/7. Anything that is within our limit, we try to provide our clients with utmost sincerity and dedication.
Our whole team from top-level to bottom believes that clients' satisfaction and comfort are our desired goals. We provide all our house and office shifting services separately or in a package. One can choose from a wide variety according to budget and comfort, especially house and office shifting services in Uttara.
We have separate packaging systems. One can choose to pack their products or could avail services from our skilled labors. We provide services not only to the house or home shifting but also to the office and commercial space shiftings.
How our team works for house shifting services in Uttara
● When we are asked for a shift, our experienced professionals visit.
● The team will make a shortlist of belongings.
● Fragile items and sensitive items will be shortlisted separately.
● A copy of the listed items will be handed over to the client.
● Our professionals will set a meeting to know the personal choice of clients and the plan they will execute.
● A variety of packaging items will be displayed to choose from.
● Our workers will be available, but if clients want to package their goods, that option remains.
● We carefully label each and every packet.
● For extra care, we use bubble wrap for our fragile items.
● We also provide carton boxes for the safety of goods and safe shifting.
● According to the client's interest, the number of trips or numbers of labor can be increased or decreased.
● Everything, including electronic goods, wall-mounted items, and fragile goods, are within our special care.
● We can offer you a variety of moving resources to move your products.
● Our whole team is working 24hrs for 7 days to provide customer care.
Majhar PacknShift movers and packers in Dhaka always want to make our clients comfortable in their own way. We are highly aware of stress, related to shifting, whether it is house or office. We want to take the whole workload related to house moving services in Uttara. We are promised to make a hassle-free, organized, damage-free shifting. Our whole team is here to make your relocation a smooth one.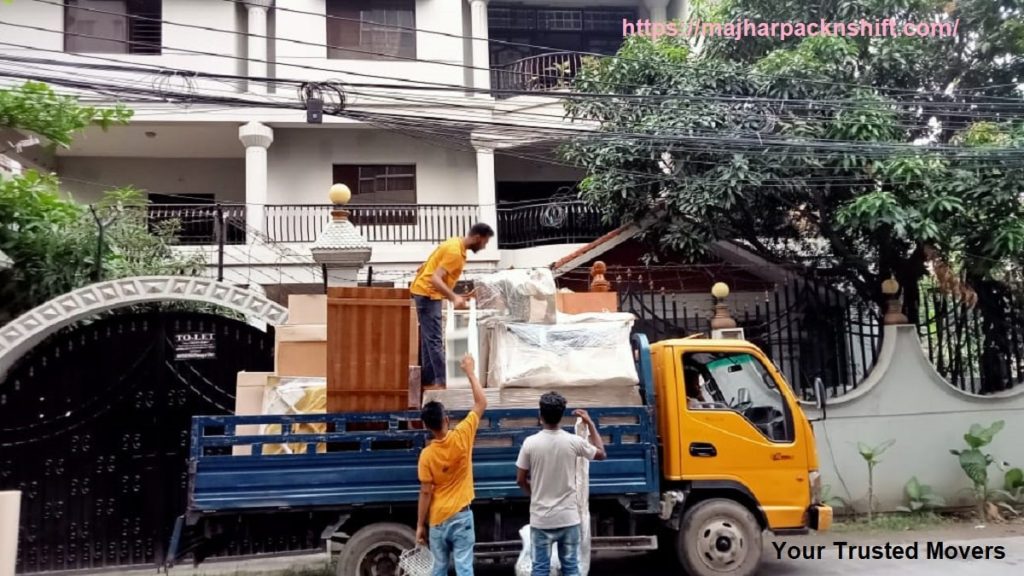 Services we provide for our valuable customers
House Relocation services in Uttara
Majhar PacknShift is a well-reputed, authentic, and reliable house and office moving company in this field for a long period. We put all our sincere efforts into making your shift easy, smooth, and above all, a memorable one. Out great and one of the most popular moving services is house relocation service in Uttara.
Office shifting services
Our experienced officials, large numbers of vehicles, skilled labor, and world-class packaging items not only make your transition hassle-free but also time-saving. Our services are always for your comfort.
Home shifting services
Our 20 years' experience makes us diverse with a wide range of facilities for our clients. The home belongs to everything from a tiny bit to a large one. Every particle from every corner of a home is taken care of. Every bit is well packaged, moved, and loaded with utmost care.
Ac shifting and installation
Another name for hassle nowadays is AC removal and installation. Getting an authentic person or company to do this work has been a real headache. With this charges are also a point. But for your relief, we provide this service with experienced personnel. So you can trust us in this aspect. We assure you that we will handle your product with utmost care.
Assemble and packaging of products
We also provide services for the assembly of goods and packaging for our house shifting service in Uttara. Our skilled labor put their earnest efforts into assembling and packaging goods. Experienced officials supervise their working procedures. Diverse plans are made to do all the work in time and damage-free.
Loading and unloading services
Our skilled and trained laborers put their highest effort into providing hassle-free loading and unloading services at your doorstep. We could provide it with our experienced officials who make an elaborated work plan, a survey of places and streets from where goods will be relocated. With such care and attention, it is quite impossible to make any mistakes.
Heavy machinery and equipment movers
Majhar PacknShift moving company in Dhaka also provide wheel carts. To move large and heavy equipment like appliances, the machinery we use it. For large and sophisticated appliances, it is almost necessary. We aim to make your shifting smooth and hassle-free. You can always choose from our wide variety. Damage-free shifting is always our priority. Majhar PacknShift always try to maintain your goods our responsibility for home shifting services in Uttara.
Packing and unpacking services
As we mentioned earlier, we are a wholesome group. We do provide almost everything for your comfort for office and house shifting service in Uttara. In this part also, our team is not lagging. Our skilled laborers are also at your service in this matter. They can pack and unpack your goods with utmost care and sincerity. Even they can work hand to hand with your supervised way. Good packaging is very necessary for a damage-free shifting. Our skilled workers ensure it by any means.
Fridge, wall-mounted TV, and electronic items installation.
Our trained workers can install all electronic items a house or an office could have. Their professionalism, working ability, and skills will surely amaze you. Their services will surely put you in a relaxed state. They all work with a common motto 'your product, our care.'
Customer care
Nowadays it's been a common complaint that after finishing the contract it's not easy to get the services. Majhar PacknShift movers want to assure our valued customers we are here for you 24/7. We aim to keep you comfortable. Once we make a deal with our customers, we consider it lifelong. For any services required for their shifting, we are here with all our team.
A well-reputed, trusted company since 2002
It's been a true privilege to mention that we have been working in this field for 20 years. Our services are not only limited to shifting but also related to everything with shifting. During these 20 years, our journey was not so easy. It was always our clients, their support, their reliance, and their love that made this journey a successful one. Our clients were always a true inspiration for our whole team. Our dedication, perseverance, and motivation kept our clients relying on us. Thanks to our valued customers.
Before ending, Majharpacknshift office and house shifting service in Uttara are a well-reputed, authentic area to place your order. Our wide range of services will surely put you in a comfortable place. Our well-experienced, dedicated professionals, skilled and well-trained workers, large numbers of vehicles with a variety of options, and world-class packaging systems are offering you a comfortable, hassle-free, damage-free, budget-friendly shifting. Our services are always meet client needs. 
We offer diverse options for our clients to choose from. Our options are all full proof and well examined. We assure you in this competitive field; we offer the most cost-effective services to our clients. We work as a team. We consider our valued customer also a team member. We feel benefitted if we could establish good relations with our valued customer. We always welcome my valuable customer for our house shifting service in Uttara.